When you are about to choose a dentist, what types of characteristics do you look for in making your choice?  After all, choosing a Family Dentistry Brampton isn't like buying a pair of shoes.  The decision that you make needs to be an informed decision, because after all, it is your teeth, mouth and smile that is at risk, right?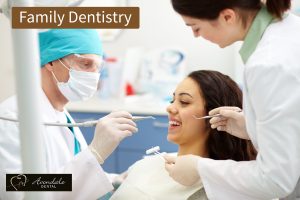 How Do You Choose your Dentist?
One of the most important things that you could take into consideration is Word of Mouth.  It is always important to consider what other people have to say with respect to service and company standards.  So you can look up reviews online or simply just ask around from people that you know if they happen to know of a good dentist in your local neighbourhood.  Search the internet for negative and both positive reviews about the dentist that you may be considering.
Usually if there is anything bad to say at all it will come up if you search the name of the dentist followed by negative reviews.  Anything that is outstanding in a negative manner will come up on the search engine's first page.  That's the easy way to look for negativity.  You can do the same by looking for positive comments on the dentist's website.  Usually testimonials are self-explanatory.
People that have an awesome experience with a dentist, will usually write about it or make it be known to society.  Another way is to go directly into the dentist office and see what kind of service you receive as a new client, they will usually offer some kind of promotion to reel you in.  You can also use this opportunity to get a feel for the staff and their attitudes towards you.  You can analyze whether or not they are courteous, polite and whether or not they provide you with an outstanding customer service experience.  If they do, don't forget to fill out one of the comments card they have at the desk for any opinions you may have about the dentist business.
You can also take into consideration whether or not the appearance of the dentist office meets your standards personally.  Odds are if the facility is not the cleanest, then the practices used aren't the best either.  So, you can use your own judgment there.
Personal experience has always assisted me in choosing physicians of any kind.  Using your best judgment or taking someone else's word for it is usually the best way to go as opposed to just wandering out into the land of dentists on your own, right?  You want to be sure that your teeth, mouth and smile are getting the best service that you can afford, given your personal circumstances.
So, the best thing that can be recommended is to take a referral.  If you are given a referral to a dentist, then take it because 9 times out of 10, they are usually worth the paper the referral is written on and the service is usually outstanding.